<!drk7jp_parse_scope> To sum up the epidemic from 2009 to 2010, this ranking is based on the total number of infected persons during the period from week 28 (7/6 - 7/12) of 2009 to week 12 (3/22 - 3/28) of 2010, which the National Institute of Infectious Diseases specifies as the epidemic period. This surveillance includes patients with influenza other than H1N1, but as the NIID indicates that "most influenza patients are believed to be infected with H1N1," it can be said that the number of influenza patients refers to the number of H1N1 patients.
Okinawa had the greatest number of patients per observatory with 786.73. Okinawa is followed by Fukui, Aichi, Miyazaki and Fukuoka. 6 prefectures from the Kyushu and Okinawa regions are ranked in the top ten, showing a high degree of the epidemic in these areas. There are many infected persons around the mid-Honshu area as well, such as in Fukui and Aichi.
The following is a graph of the average number of patients by prefecture and the national average.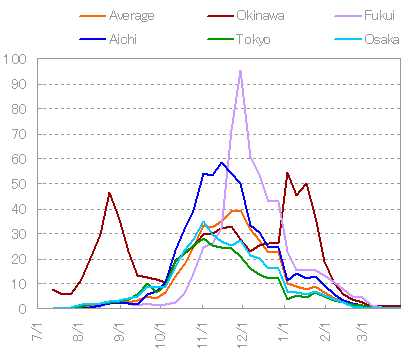 While the peaks in prefectures other than Okinawa are from November to December, the peaks are in August and January in Okinawa, indicating a difference in the timing of the epidemic from the mainland. The number of patients during the winter season seems to be the factor moving Fukui's ranking up to #2.
The correlative ranking shows that it is positively correlated with the
Number of Children
. There are many patients with H1N1 where there are many children, which shows that children accounted for a majority of the patients. <!/drk7jp_parse_scope>