<!drk7jp_parse_scope> Number of pachinko parlors from the National Police Agency's statistics. Because the pachinko business is subject to notification, the jurisdictional police agency publicly reports on the statistical data. However, because the most recent data could not be found on the internet, the data for 2007 has been used.
Change in number of pachinko parlors since 1968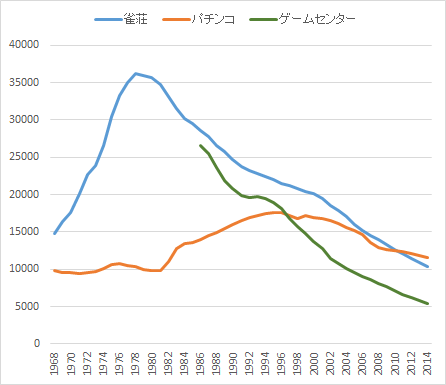 The number of pachinko parlors increased from the bubble period to 2000, but since then, it has been decreasing. There was a time when small-sized pachinko parlors were eliminated by the expansion of large-sized pachinko parlors into various areas, but pachinko itself seems to be losing popularity.
As of 2007, there are 13,585 pachinko parlors in Japan, which is 10.63 per 100 thousand population. Kagoshima has the greatest number of pachinko parlors in Japan, with 279. This is 16.13 per 100 thousand population which is approximately 1.5 times the national average. Kagoshima is followed by Kochi, Gunma, Miyazaki and Tochigi.
Although the number of pachinko parlors differs between the southern part and the northern part of Kyushu, the number of pachinko machines is great in all of the prefectures in Kyushu. This is believed to be due to there being more large-sized pachinko parlors with many pachinko machines in the northern prefectures and more small-sized pachinko parlors but with fewer pachinko machines in the southern prefectures. It seems that the number of pachinko machines represents regionality more than the number of pachinko parlors.
The correlative ranking shows that it is negatively correlated with the number of
Broadband Contracts
. The number of broadband contracts tends to be greater in urban areas, indicating that there are fewer pachinko parkors in urban areas and greater in rural areas. <!/drk7jp_parse_scope>