<!drk7jp_parse_scope> Number of children from the Ministry of Internal Affairs and Communications' population estimates. The population of childred aged from 0 to 15 is calculated from the MIC's population statistics. There are 17,010,000 children as of 2009 which is 13.34 persons per 100 population.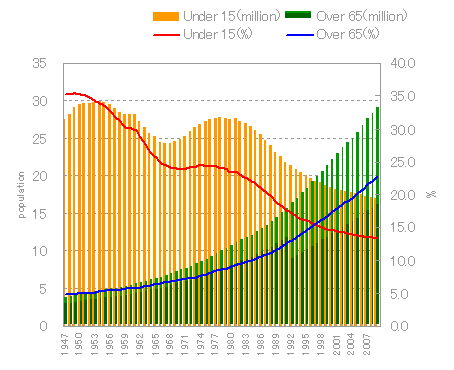 In view of the changes in the number of children since 1947, it can be seen that the number of children gradually declines after peaking in the late 1970's and the 1980's, the baby boom era and the period when the baby boom generation reached childbearing age.
The number of children per 100 population is greatest in Okinawa, with 17.73 per 100 population. This is approximately 1.3 times the national average. Okinawa is followed by Shiga, Aichi, Fukui and Saga. Half of the ten top prefectures are in the Kyushu area including Okinawa.
On the other hand, the number of children per 100 population is smallest in Akita, with 11.13 per 100 population. The number of children is small in other prefectures on the Japan Sea side such as Aomori, Yamagata and Niigata. Tokyo, with 11.86 per 100 population, is ranked second to last. This is believed to be due to younger generations over 20 years old coming into Tokyo as students and workers.
The correlative ranking shows that it is positively correlated with the number of
Game Parlors
. Although the correlation factor is high due to Okinawa outstanding in both rankings, it can be said that there are many arcade centers where there are many children. <!/drk7jp_parse_scope>